Hello there!
Today's post is
inspired by this
lovely one over at Running with a Glue Gun, from last month. I really liked it, and I thought maybe you guys would be interested in something similar. So here goes:
1) I still sleep with my teddy bear, and every time I go to a charity shop, I have to check to see if there's another Winnie the Pooh I can save.
2) Bread, Bacon and Chocolate are my three food passions, although not all at the same time.
Because that would be weird.
3) Chick Flicks make me depressed as the girl always gets the guy and in real life, that just does not happen. Particularly Bridget Jones' Diary. As a girl carrying some weight, I can tell from experience that that just does not happen.
4) Kind of got a small weird crush on Tim McGee from NCIS.... And the guy who plays Richard in The White Queen....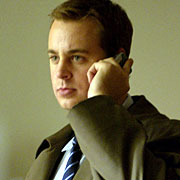 McGee
Richard
5) If all else fails, my backup life plan is to join the RAF. Or to write a book.
6) I am terrified of answering the phone, let alone calling someone.
7) My History teacher thinks that I'm a serial killer after I did some research on execution methods for a research project. I promise you that I am not, and as a History teacher, I think he should appreciate my choices of historical interest, even if slightly odd (I do like normal things such as the Renaissance, and the Crusades...).
8) I can knit a scarf in one night, given the correct wool and type of scarf.
9) I made my first card aged eight using a mosaic kit on my Grandma's kitchen table. It was awful, but it gave me the bug.
10) I lost a lot of weight in the past year - over a stone. It feels good, but I'd still like to shed a little more.
So there you have it. I will continue Katie's sentiments and say that if you would like to do a similar post, please do, and link back so I can read them. Go and read hers, too, it's much better than mine!